VISIT SPAIN WITH THE UMBC ANCIENT STUDIES DEPARTMENT IN MARCH 2017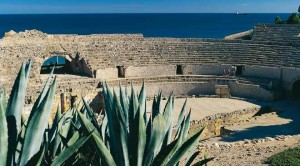 The UMBC Ancient Studies Department will conduct its 51st annual study tour in Spain March 17-26, 2017. The price of $3,400.00 (based on a group of 30) includes all air and land travel, twin-share accommodation for eight nights at four-star hotels, eight buffet breakfasts, three dinners, two lunches, and entrance to all archaeological sites and museums on the itinerary. Single rooms are available at an additional cost. ANCS majors and minors, UMBC students, faculty, staff, alumni, and members of the community are invited to join us. The trip can be taken as a three-credit course in the Winter 2017 term (ANCS 301; winter semester tuition applies). Scholarships are available to Ancient Studies majors taking the course for credit. Places are limited, so reserve yours today! An initial deposit of $350.00 is due Monday, September 26, 2016.
The tour begins with four nights in Barcelona. We will visit the City Museum of Barcelona, the Roman Walls and Carrer del Pardis (four columns from a temple of Augustus), the Plaça Vila de Madrid (Roman Necropolis) and the fabulous Picasso Museum. After a free day (all museums and sites are closed on Monday), we will make a day trip to nearby Tarragona to explore the remains of the city's Roman infrastructure and to tour the museum. The following day we hit the road for Zaragoza (ancient Caesaraugusta), where we will visit the Museum of the Forum of Caesaraugusta and the Museum of the Public Baths. The next day we travel to Madrid for a tour of the incomparable National Archaeological Museum of Spain. Then we travel to the colonial town of Mérida (ancient Merita Augusta) to explore the Moorish palace and fortification Alcazaba before ending the day at the Mérida National Museum of Roman Art. The final day of the trip is devoted to a thorough exploration of Mérida, which became the capital of the Roman province of Lusitania, and has the a wealth of Roman remains.
This is a wonderful opportunity to see Spain in the off season in fine spring weather. Send your registration form and deposit to Domonique Pitts at dpitts@umbc.edu or at 410-455-6265 (5-6265 from campus) to register your interest now!