TRAVEL TO GREECE WITH THE UMBC ANCIENT STUDIES DEPARTMENT, MARCH 15-24, 2024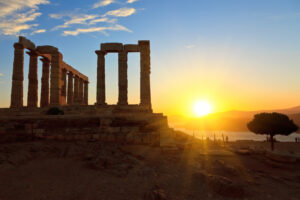 The UMBC Ancient Studies Department will conduct its annual study tour in Greece, March 15-24, 2024. The cost of $3,750 includes all air and land travel (including coach service to and from Dulles Airport and UMBC), twin-share accommodation for eight nights at four-star hotels, eight buffet breakfasts, two dinners, two lunches, and entrance to all archaeological sites and museums on the itinerary. Single rooms are available at an additional cost of $377. ANCS majors and minors, UMBC students, faculty, staff, alumni, and their friends and family are invited to join us.  If you are interested in joining us, please email the trip registration form to Ms. Lydia DeRidder (lderidde@umbc.edu), Ancient Studies Department Academic Specialist. An initial deposit of $150.00 (check made out to "UMBC" or cash ) is due by Monday, Oct 9, 2023. Places are limited, so reserve yours today!
Subsidies to help pay for the costs of the trip are available to Ancient Studies majors ($3000 and $1000) and minors ($1000.00). Applications for subsidies can be downloaded here. Please email your completed subsidy application to Dr. David Rosenbloom (dsrose@umbc.edu) no later than Monday, Oct. 2, 2023. The department will announces the subsidy awardees in advance of the due date for the initial deposit.
The tour will begin with a three-night stay in Athens, followed by one night in Itea, two nights in Nafplio (Nauplion), and one night in Iraklio (Heraklion), Crete, and one final night in Athens. The first stay in Athens will include visits to the Acropolis and the new Acropolis Museum, the Agora and Agora Museum, the National Archaeological Museum, and Cape Sounion, where we will explore the temple of Poseidon and watch the sunset over the Saronic Gulf. We will then travel to Delphi, visiting the Archaeological Museum of Thebes, Gla, and the mountain village of Arachova on the way. After spending the following day at the sanctuary of Apollo at Delphi, we travel to Nafplio for visits to the Nafplio Archaeological Museum and the bronze-age fortresses at Tiryns and Mycenae. Returning to Athens, we fly to the island of Crete, where we will visit the Heraklion Archaeological Museum and Minoan sites at Knossos, Phaistos, and possibly (time permitting), Ayia Triada, and Komos, before returning to Athens that evening for now last night in Athens before the flight home on Sunday, March 24, 2024.
The full itinerary can be downloaded here.