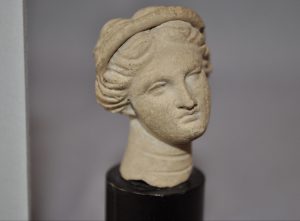 It took Marie Spiro five decades – and a bit of heavy lifting – to create her personal collection of ancient artifacts. "Anytime I came back from a site," she quips, "I had the heaviest suitcase."
Spiro is an associate professor emerita of art and archaeology at the University of Maryland, College Park, and her dramatic recounting of a particular object's discovery can quiet a rowdy classroom. The collection features over 1,000 Greek, Roman and Byzantine artifacts, and contains mosaics, pottery, figurines and other pieces that date back as far as 15,000 years.
Indeed, students were at the heart of Spiro's enterprise. She relished sharing the pieces she brought home with them in classes, encouraging them to touch and handle the objects in ways that they couldn't at a museum, or by looking at a photograph.
So when Spiro decided to donate her collection, she looked for a place that would follow her example. She settled on UMBC's Ancient Studies department, where the first third of Spiro's collection was used in classrooms this past February. (The next third of the artifacts will come to campus in early 2012, with the final portion arriving in 2013.)
"I think the ancient studies program [at UMBC] is the best, I really do," says Spiro. "I'm so happy that the collection has found a home. That's my dream fulfilled."
Hands-on learning is a priority for Marilyn Goldberg, chair of Ancient Studies, who says she is delighted with the gift. She points to the value in the number of objects in the collection that ancient people used in their everyday lives, and how students can now physically interact with ancient artifacts without even leaving campus.
"Students can look at a piece in its entirety, look at the back of it and the profile of it, see how it's made," Goldberg says. "You can't turn a picture over."
Goldberg and other campus leaders secured the financial support of local Greek organizations – including the Baltimore-Piraeus Sister City Committee and the American Hellenic Educational Progressive Associations of Baltimore and Washington, DC – to bring the collection to UMBC. UMBC's plans for the collection include an archaeology lab that will be part of the second phase of construction of the university's Performing Arts and Humanities Building. It will be a space where students can study the artifacts and display the exhibits they curate.
Students enrolled in a museum studies class taught by Esther Read, lecturer in ancient studies, in the spring semester were the first to use the collection. The class was a lecture/lab hybrid in which students discussed issues faced by museums in each session before working with the Spiro's artifacts.
"I want them to see that these objects are more than just pretty things in cases. Whoever owned that piece originally, it had meaning to them. It had meaning to Marie Spiro when she collected it. It has different meaning now that she's given it to us, and it'll have a meaning here at the institution and for the student who works with it," says Read. "You have so many groups and so many relationships with one object. Which story do you present?"
— Chelsea Williams
Williams, Chelsea. "A Collecting Call". UMBC Magazine , Fall 2010. http://www.umbc.edu/magazine/fall11/discovery.html.