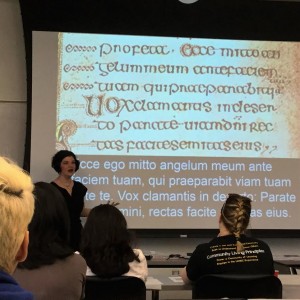 Molly Jones-Lewis is a social and cultural historian of ancient medicine. Her research focuses on the ways in which doctors and medical theories functioned within the multicultural environment of the Roman Empire, and she has published on poison and political theory in Pliny the Elder, and the role of the Libyan Psylloi in the Roman medical marketplace. Her ongoing projects focus on theories of ethnicity, the doctor in Roman law, and how eunuchs were made and marketed in Rome.
She just contributed to and co-edited The Routledge Companion to Identity and the Environment in the Classical and Medieval Worlds with Rebecca Kennedy. This volume brings together scholars from a variety of disciplines ranging from Archaic Greece to Han and Tang China to European mapping in the 1400s to explore the history of environmental determinism: the idea that human difference is the result of the environment in which humans live. She is now preparing a monograph entitled The Doctor in Roman Law and Society which is the first work to focus on that topic since Below's 1953 Der Artzt im römischen Recht.
She has taught on a wide range of topics in the culture of the ancient Mediterranean: gender and sexuality, imperialism, warfare, science and medicine, religion, and magic.  At UMBC, she regularly teaches Ancient Medicine (ANCS 375), Warfare in the Ancient World (ANCS 305), Defense Against the Dark Arts: Magic and Witchcraft in the Ancient World (Winter), and The Ancient World in Modern Film (Summer).
She earned her B.A. from Swarthmore College and her Ph.D. from The Ohio State University.  In her spare time, she knits, spins yarn, plays baroque recorder, spoils her cats, and indulges her love of science fiction and fantasy literature.